Stirling Launches First Street Art Festival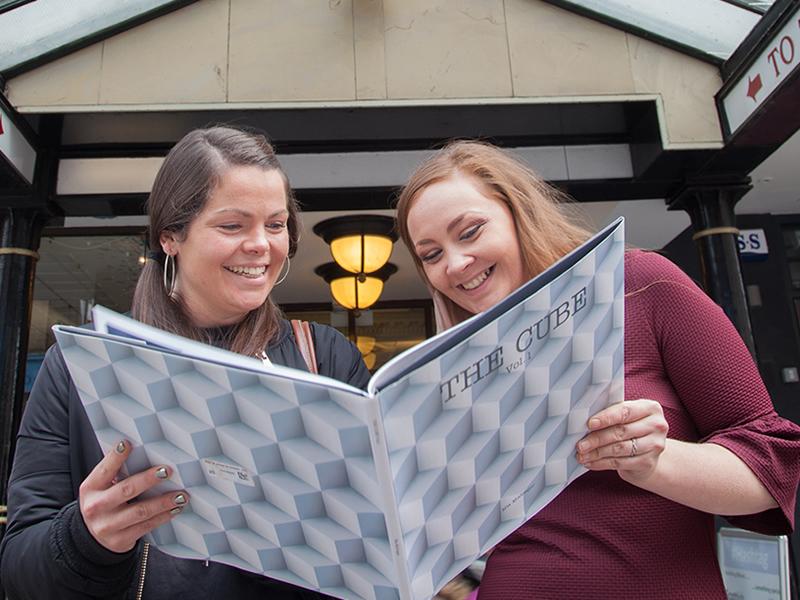 Stirling's streets will come alive with art and music as the city launches its first Street Art Festival on 22nd & 23rd September.
Stirling's streets will come alive with art and music as the city launches its first Street Art Festival.

`Animating Our Streets' is a collaboration between Go Forth Stirling and the city's traders and creative community which runs from Saturday September 22 to Sunday September 23.

Go Forth Stirling Director Jon Walton, social entrepreneur Janie Meikle Bland and street artist Mia McGregor are behind the initiative to promote Stirling which centres around interactive art installations and pop up music spots.

Local people and visitors will be invited to contribute to an innovative public art project by drawing and writing on eight 1m high by 1m wide cubes based around the city.

The Cube is a collaborative initiative run by Ms McGregor to encourage creativity and her cubes will be installed in Stirling Arcade, at Europa Music and the Sable and Flea Coffee shop in Friars Street, in the Kilted Kangaroo pub and the Thistles Shopping Centre.

She said: "The Cubes are all about collaboration and absolutely anybody and everybody can take part in contributing to them.

"They are a platform for people to design, write or draw something and the final artwork will be amazing because all these moments, stories and connections are brought together."

Once the Cubes are complete, Ms McGregor, from Doune, plans to turn them into a huge mural to be situated in Stirling Arcade.

She added: "This is Stirling's first street art festival and we hope it will become an annual event, so people can see what the city has to offer and to promote our fantastic independent shops."

Mr Walton describes The Cube project as a "stroke of genius" and has high hopes for the first festival organised by Go Forth Stirling (the city's Business Improvement District).

He said: "My real passion about the high street is how it differentiates itself through all the personalities behind the shops and `Animating Our Streets' is a chance to highlight those people, products and services and bring the streets of Stirling to life.

"It's a great opportunity to engage with city centre customers and businesses, create amazing art and have some fun at the same time.

"The Festival is something really different and creating entertainment and going the extra mile in this way is something I believe is essential in city and town centres."

The weekend also includes entertainment as local up and coming performers bring music to the city's streets.

And there will be documentary photography opportunities - telling the stories of local businesses and the transformation of the cubes - created by young people and led by Mrs Meikle Bland who runs social enterprise Picture the Possible.
She said: "Our aim is to animate key routes through the city and bring the streets alive through art and music.

"We want to engage people with the city centre in a novel way through vibrant visual and musical activities."

The weekend of September 22/23 was chosen as it coincides with the Bloody Scotland Festival and the end of Freshers' Week at the University of Stirling.
Mrs Meikle Bland added: "It's a great opportunity to promote our city to Bloody Scotland audiences and introduce students to the wide range of independent traders we are lucky to have in Stirling."

One of the musicians taking part is 15-year-old Joseph Hewer from Alloa who'll be performing at spots across the city.

Joseph, an Alloa Academy student, is a talented acoustic singer-songwriter and plays the guitar.

He said: "I'm excited to be involved with the Festival which is a great outlet for all the artistic talent and enthusiasm we have in Stirling.

"We'll be bringing some liveliness to places like Friars Street and Murray Place and hopefully help get more footfall into these areas which are full of great independent shops like Europa."

Meanwhile the Kilted Kangaroo, in Upper Craigs, is one of the venues where patrons can add their artwork to a Cube.

Events and Marketing Manager Charlie Macrae said: "I think it's an excellent idea; we enjoy being part of community projects which are a bit different and it will be interesting to see what our customers draw on the cube."

There will also be four cubes in the centre of Stirling Arcade.

Manager Ashley Shiels said: "Stirling Arcade are pleased to be hosting The Cube -`Animating Our Streets' - a new artwork initiative bringing together the next generation of young talent in the form of artists and musicians.

"We hope this will brighten the town centre with a burst of new energy and colour but most of all bring the community together."

Photo of artist Mia McGregor (left) with Ashley Shiels of Stirling Arcade. Photo by Janie Meikle Bland.
Last Updated: 14 September 2018 16:05
Latest Local News
Sponsored Links
Popular Events
Falkirk's favourite festival is back for 2019! Come down to the Helix on Sunday 11th August for a fun filled family day out - and don't forget your picnic!
Doune The Rabbit Hole, the intimate and independent music and arts festival, is back from 19th – 21st July 2019 and celebrating it's 10th Anniversary!
Come along with Lanarkshire Paranormal as they investigate the reported paranormal activity in Stirling Old Town Jail on Saturday 10th August!
The next walk with the Stirling, Falkirk and District Ramblers is on Sunday 21st July and will be from St Fillans to Loch Boltachan.
Join us this summer at The Peak Holiday Club, it's jam packed with plenty of fun sports and activities to suit all ages!
Advertise With Us
Looking to reach new customers? We offer a variety of advertising options with prices starting from just £30 per month!