James Watt artefacts unveiled at The Engine Shed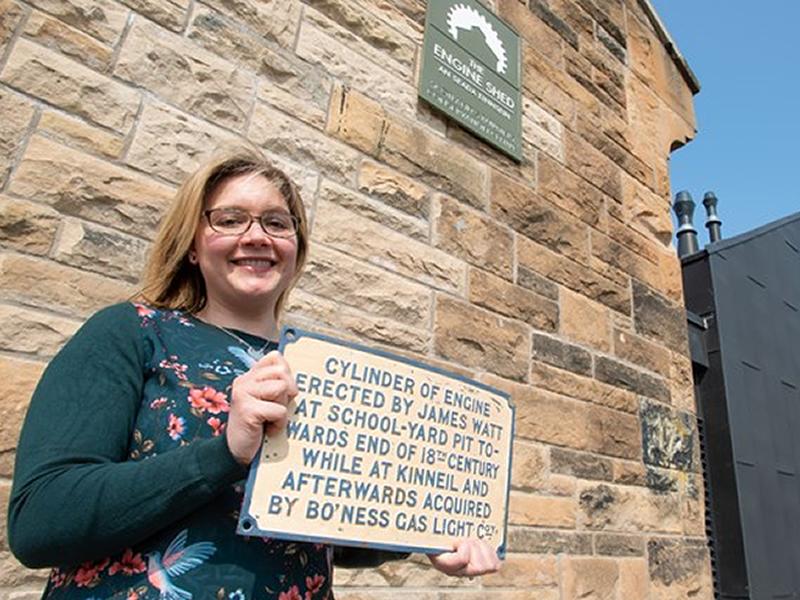 An exhibition dedicated to the life, work and legacy of Scottish engineer and inventor James Watt opened at The Engine Shed in Stirling today.
An exhibition dedicated to the life, work and legacy of Scottish engineer and inventor James Watt opens at The Engine Shed in Stirling today to celebrate the 250th anniversary of his invention of the condenser engine.

The exhibition will focus on James Watt's improvements to the steam engine and features historic artefacts including what might be an example of William Murdoch's locomotive - on loan from The Stirling Smith Art Gallery and Museum. The exhibition will also showcase two examples of Cartwheel pennies, and a sign from Kinneil House where James Watt developed his prototype steam engine.

On display for the first time since 2000, the locomotive is a replica of what is possibly one of the experimental steam carriages created by William Murdoch in defiance of James Watt's 1782 patent. The George III Cartwheel penny, dated 1797, was the first copper penny to be circulated in Britain and the first coin in England to be minted on a steam powered press, developed by James Watt and Matthew Boulton. The sign exhibited is a painted copper alloy plaque from an engine cylinder at Kinneil House.

Visitors will discover the impact James Watt's invention had on Britain's industry and engineering, which is still evident today.

The Engine Shed, run by Historic Environment Scotland (HES), serves as a central hub for building and conservation professionals and the general public.

Mark Watson, Deputy Head of Industrial Heritage at Historic Environment Scotland, said: "This exhibition is the perfect way to celebrate the work of James Watt on the 250th anniversary of his patent for the separate steam condenser.

"This exhibition shines a spotlight on Scotland's ground-breaking inventor while looking at the impact of his work from the industrial revolution to climate change.

"This intriguing miniature locomotive gives an insight into the earliest experimental road vehicles, and we're delighted to bring it back into public view for the first time in 19 years.

"We hope to showcase James Watt's global significance to a new audience and demonstrate how his work continues to influence the world today, 200 years after his death."

'James Watt: Power to the World' is free to visit from 10am – 4pm Monday – Saturday and is on display until Friday 23 August.

This exhibition also marks the launch of The Engine Shed's season of family-friendly events programme which runs until September. The programme includes a series of Master Builder events, encouraging families to get hands on with the skills used to conserve Scotland's traditional buildings by using materials such as stone, earth, fired earth, metal and lime. There are also events for 'Wee Builders' where children under five can enjoy creative play in a fun, child-led environment. The free Master Builder programme kicks off this Saturday (27 April), and continues on the fourth Saturday of each month.

On the second Saturday of the month, throughout the year, young people with autism are invited to explore the conservation centre during the relaxed visiting hours. Adjustments will be made to lighting and sound, and there will be a quiet space with sensory toys for children to enjoy.

For further information on events at The Engine Shed, visit: https://www.engineshed.scot/whats-on

Last Updated: 25 April 2019 15:27
Latest Local News
Sponsored Links
Popular Events
At the monthly Stirling Farmers' Market you'll find up to 25 stalls offering an outstanding range of superb produce!
Shop smartly, be savvy and save money at the Jack & Jill Market Falkirk held at Grangemouth Sports Complex!
On 14 July 1990, over 30,000 people gathered in Stirling to celebrate 'A Day for Scotland'. This event commemorates the day 30 years on.
Join us at The Engine Shed for our exciting under 5's sessions, through creative play in a fun, child-led and sometimes messy environment!
A playful, fun way to enjoy all the benefits of yoga with the delight of floating in space. It'll put a smile on your face while you iron out the crinckles in your back!
Popular Venues